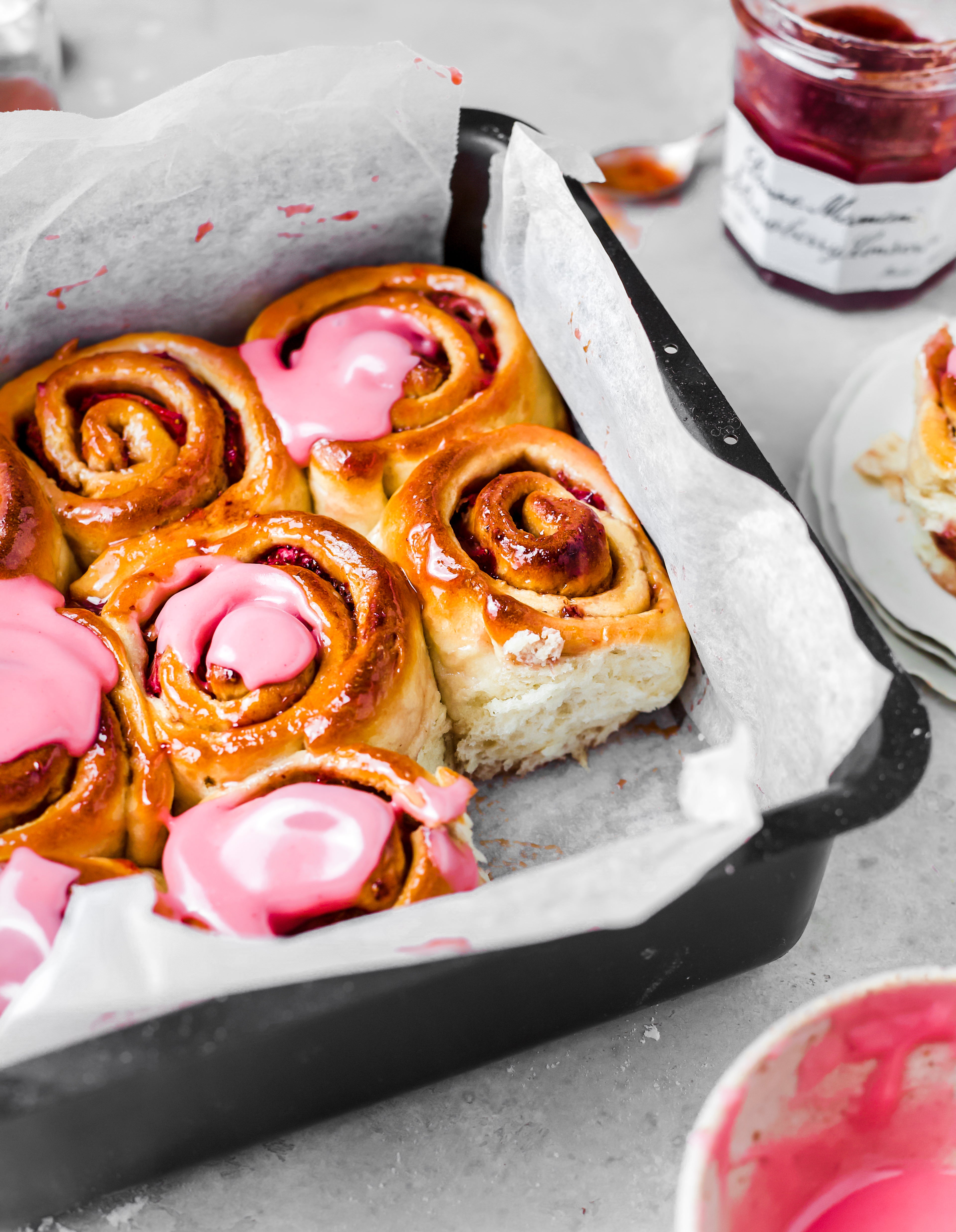 INGREDIENTS
Scroll ingredients
3 cups (375g) plain flour

2 1/2 tsp (10g) dry yeast

2/3 (165mL) cup milk, warm

1/3 cup (85mL) coconut or Greek yoghurt

2 tsp (10ml) vanilla

2 Tbsp (30g) sugar

1 Tbsp (15ml) oil

1/4 tsp salt
Strawberry filling ingredients
Optional icing ingredients
1 cup (110g) icing sugar

2 Tbsp (30mL) almond milk

1/2-1 tsp beet powder or a few drops red food

colouring (optional, for colour only)
METHOD
DOUGH. Add all the scroll ingredients to a mixing bowl and combine, then turn on to a lightly floured bench and kneed for 6-8 minutes or until smooth and elastic. Place in a oiled bowl and leave in a warm spot for 1 hour, or until dough has risen.

While the dough roves, add cut strawberries, vanilla, sugar and cinnamon to a bowl. Combine and set aside. Grease a 8 inch square tin (or similar) and set aside.

FILLING. Turn risen dough onto a lightly floured bench and roll out to a thin rectangle. Spread strawberry conserve over the dough, leaving a 1 cm border. Spread the strawberry cinnamon mixture on top. Starting from the long edge, roll dough into a tight log. Cut into 9 rounds* and place in your prepared tray. Leave scroll in a warm spot for a further 30 minutes.

Preheat the oven to 170 C, then bake for 25-30 minutes or until golden brown. Remove from oven, and brush the tops with extra strawberry conserve.

OPTIONAL ICING- Allow scrolls to cool for a few minutes. Whisk together icing ingredients in a small bowl, until smooth. Pour over hot scroll, and enjoy immediately.