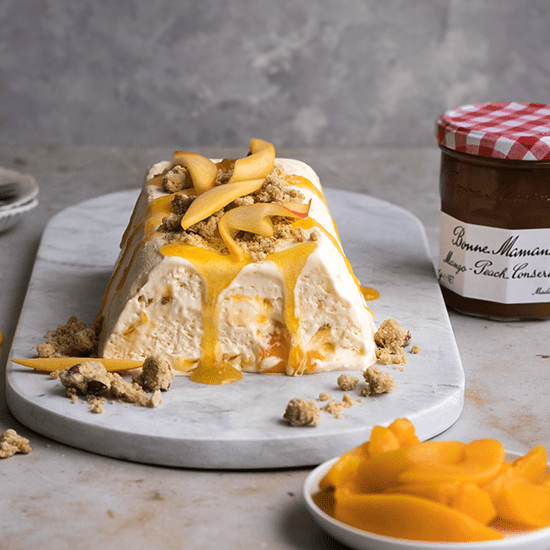 INGREDIENTS
Semifreddo
3 large eggs

75g caster sugar

2 tsp water

1 tsp apple cider vinegar

450ml thickened cream, straight from the fridge

1 tsp vanilla extract.
Crumble
80g brown sugar

80g butter, melted

160g plain flour

50g almonds, roughly chopped

¼ tsp salt
METHOD
Line a 20cm X 11cm loaf tin with cling film, making sure to cover all the sides.

In a mixing bowl, whisk cream and vanilla extract with a hand mixer till it just reaches stiff peaks. Place in the fridge.

Fill a small saucepan with water, a quarter of the way up and place on the stovetop. Bring to a gentle simmer. Crack the eggs into a heat proof bowl and add in the sugar, vinegar and water. Place the bowl over the saucepan, making sure the water isn't touching the bottom of the bowl. Continuously gently whisk the eggs until the mixture reaches 74 degrees celsius. Remove off the heat straight away and pour the mixture into another bowl. If there is congealed egg on the base of the first bowl, don't scrape it into the second bowl.

Use a hand mixer and whisk the egg mixture until it doubles in volume and is cool to touch – this will take a few minutes.

Take the cream out of the fridge and pour the egg mixture into the cream. With a balloon whisk or spatula, gently fold everything together.

Place one third of the mixture into the loaf tin and smooth it out. Spoon half of the Bonne Maman Mango Peach conserve on to the mixture and use a skewer or handle of a spoon to swirl it through. Repeat with the rest of the semifreddo mixture until the tin is full. Cover with cling film and place in the freezer overnight. Depending on how cold your freezer is, it may take up to 24 hours for the semifreddo to set.