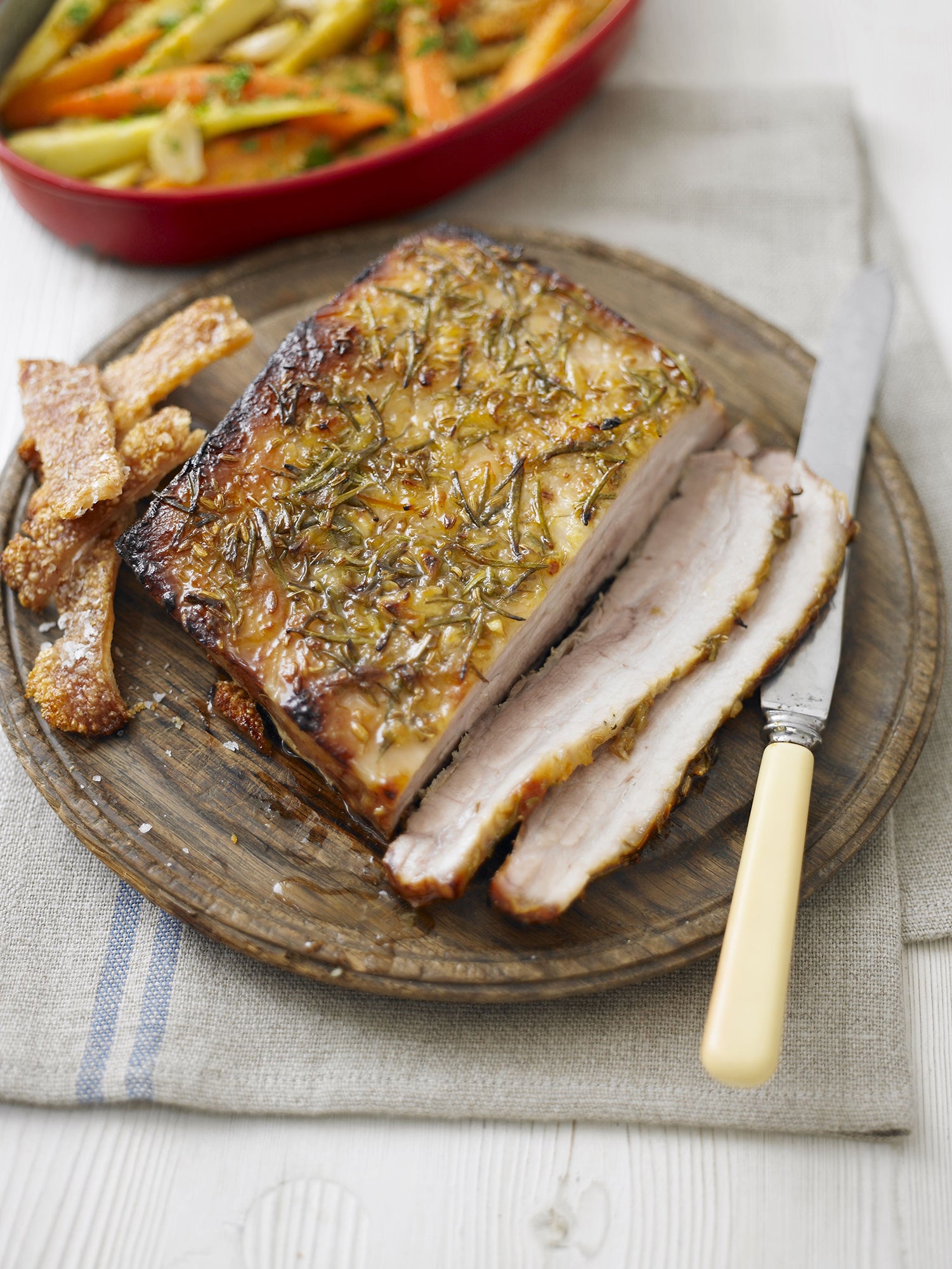 INGREDIENTS
1.6kg piece of pork belly

500ml medium dry cider

600ml chicken or vegetable stock

2 sprigs of fresh rosemary

2 fat garlic cloves

1 tbsp olive oil

4 tsp sea salt

1 tsp dried fennel seeds

6 tbsp

Bonne Maman Orange Marmalade

2 tsp plain flout

1 tsp butter

Salt and freshly ground black pepper
METHOD
Preheat the oven to 170°C.

Put the pork belly in a large roasting tin and add the cider, stock and rosemary. Bring to the boil on the hob, then cover tightly with foil and poach in the preheated oven for 3 hours. Leave to cool.

Meanwhile in a pestle and mortar or a strong bowl, with the end of a rolling pin, pound the garlic, olive oil, 2 tsps of salt and the fennel seeds to a rough paste. Add tbsp of the marmalade and pound for a few seconds.

Raise the oven temperature to 220°C.

Drain the pork, reserving the cooking liquid. With a sharp knife, cut away the rind from the pork fat and set it aside on a large piece of foil. Score the fat with a sharp knife.

Rinse out the roasting tin, return the meat to the tin and spread the fat with the marmalade mixture. Rub the pork rind with the remaining salt.

Put the pork in the oven, with the pork rind on a shelf above and roast for 10 minutes. Reduce the temperature to 200°C and continue to roast for a further 20-25 minutes until the pork is golden brown and the crackling crisp.

Meanwhile put the poaching liquid in a large saucepan with the remaining marmalade and bring to the boil. Bubble for a good 10-15 minutes until reduced by about two-thirds.

Mash the flour into the butter and whisk into the liquid. Return to the boil, whisking all the time, and cook until lightly thickened. Adjust the seasoning to taste. Serve the pork carved into thick slices with shards of crispy crackling and the gravy.