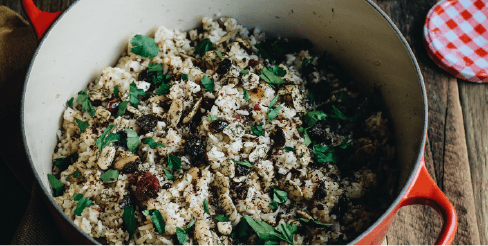 INGREDIENTS
1 ¼ cup long grain white rice, rinsed

1 cup bulgar

1 brown onion, peeled and diced

1 litre chicken stock

¼ cup extra virgin olive oil

1/3 cup dried cranberries

2/3 cup blanched almonds, roasted

1 tbs dried dill

1 heaped tablespoon

Bonne Maman Orange Marmalade

Salt and pepper to taste

Parsley and sumac to serve
METHOD
Heat oil in Le Creuset saucepan on medium heat.

Add onion and saute for 4-5 minutes until soft and translucent.

Add the rice and bulgar and cook for 2 minutes stirring.

Add almonds, cranberries, and dill.

Add stock and

Bonne Maman Orange Marmalade

, stir well then bring to the boil.

Reduce heat to low and replace lid for 20 minutes or until all the liquid is absorbed.

Remove from heat. Use a fork to fluff the grains up.

Garnish with parsley and sumac and serve.