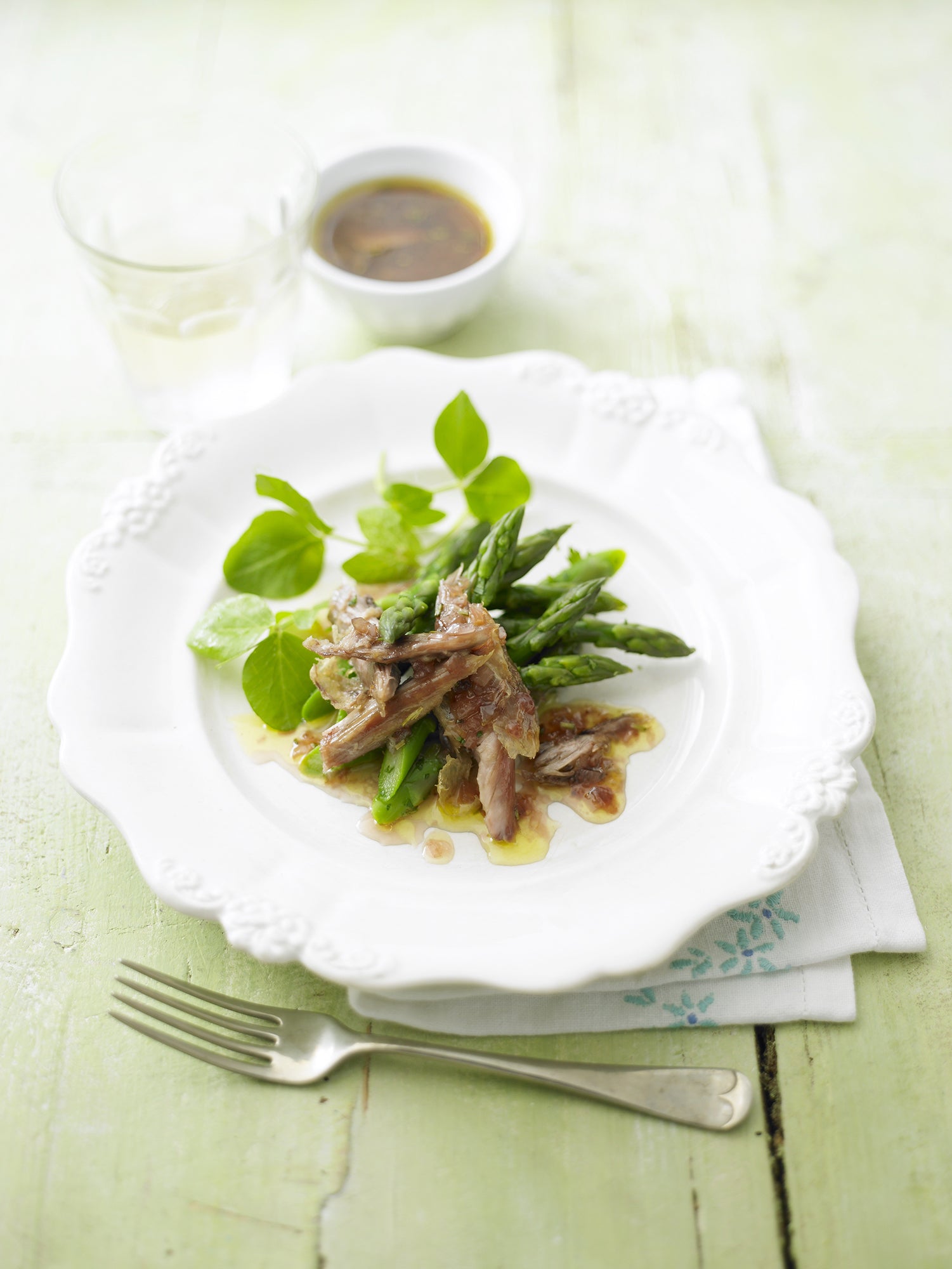 INGREDIENTS
225g asparagus, trimmed

2 confit of duck legs

75g pea shoots or soft baby salad leaves

Salt and freshly ground black pepper
For the dressing
1 sprig of fresh rosemary

9 tbsp extra virgin olive oil

2 pink shallots, finely diced

2 garlic cloves, sliced

3-4 tbsp sherry vinegar
METHOD
First, make the dressing. Remove the leaves from the sprig of rosemary and finely chop them (reserving the stalk). Heat 3 tbsp of the olive oil in a frying pan and cook the shallots and garlic with the rosemary leaves for 2-3 mins until it begins to sizzle and turn golden brown.

Remove from the heat, stir in the remaining oil, the conserve and the vinegar. Season the dressing and pour into an empty jar. Push in the reserved rosemary stalk, seal and leave to marinate in a cool place for at least 24 hrs or up to 1 wk (the longer the better).

Cook the asparagus in plenty of boiling, salted water until just tender. Drain and immediately plunge into ice-cold water to cool. Drain and keep chilled until needed.

About 2 hrs before serving, preheat the oven to 220°C.

Cook the confit of duck legs in the preheated oven for about 15 mins or until golden brown and crispy. Remove from the oven, set aside to cool, then shred the meat from the bones. Spoon 2-3 tbsp of dressing over the warm duck meat.

When ready to serve, divide the asparagus between 6 serving plates. Top with the shredded duck and some pea shoots or salad leaves. Spoon over a little extra dressing before serving.