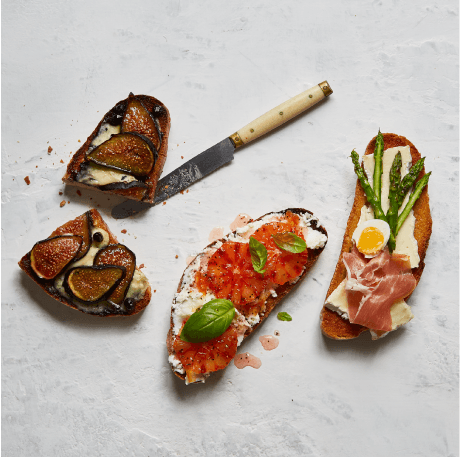 INGREDIENTS
Toasted fig & Roquefort
bread

unsalted butter

salty Roquefort

sliced fresh fig, toasted
Camembert & quail's egg 
bread

unsalted butter

creamy Camembert cheese

wafer-thin ham

half a soft-boiled quail's egg

cress or fine asparagus

black pepper
Goat's cheese & blood orange
bread

soft goat's cheese

wafer-thin slices of blood orange

a few small basil leaves

black pepper
METHOD
Bread gives the tartine its base, so opt for a good French bread that can support the toppings. Thin lightly toasted slices of baguette, flute or ficelle are ideal.

Creamy cheeses such as fresh chèvre (goat's cheese), Jambon de Bayonne (ham) or Roquefort cheese work well. Alternatively, try small soft-boiled eggs, roasted fruits or vegetables.

Plenty of tasty garnishes add texture, flavour and colour. Try crunchy sea salt, fresh leafy herbs or simply some cracked black pepper.