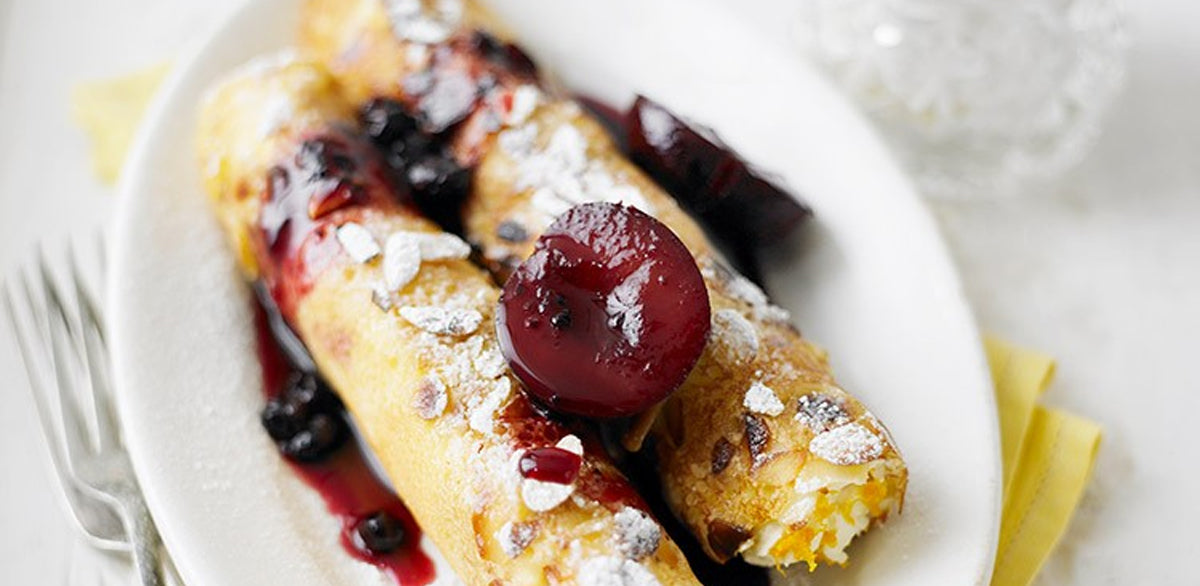 Crepes
Crêpes with Bonne Maman Conserve are delicious for breakfast as well as snacks & desserts.
Crêpes are thin pancakes made with a flour-based batter.
This famous French dish is loved around the world and is easy to make: simply cook a basic batter in a frying pan, fill it with your favorite flavour Bonne Maman Conserve or Jelly and you are set for a treat any time of the year!
Basic Crêpe Batter Recipe:
Mix 2 well-beaten eggs, 1½ cups of milk or cream, 4 tablespoons of melted or whipped butter and 4 tablespoons of sugar.
Add a 1 ½ cups of flour and 1 teaspoon of baking powder.
Stir until smooth.
Spoon batter onto a pre-heated, buttered frying pan and cook until thin and crêpe begins to brown and can easily be folded over without breaking.
Here are a few other filling suggestions for crêpes and Conserve:
Sliced bananas with Bonne Maman Blueberry Conserve
Fluffy, whipped cream with Orange Marmalade and walnuts
Strawberry Conserve, a light chocolate spread and whipped cream
Scones
Fresh-baked scones with our traditional fruit Conserve are a delightful, simple treat.
Made from a batter of flour, sugar, baking powder, butter, milk or cream and eggs, scones are light and moderately sweet – making them ideal for showing off the flavours of Bonne Maman!
The Conserve can be used as a topping or mixed in with the batter and baked into scones for an even more flavourful version.
Mixing the ingredients together properly is the key to making scones.
It works best to hand mix the dough to avoid over mixing, which can make scones too hard or flaky.
Bonne Maman Berry Scones
Ingredients
2 3/4 cups All-Purpose Flour
1/4 cup sugar
1/2 teaspoon salt
1 tablespoon baking powder
1/2 cup cold butter
2 extra large eggs
3/4 cup heavy cream or milk
2 cups blueberries or chopped strawberries
½ Cup Bonne Mama Blueberry and Strawberry Conserve
1 Jar of Bonne Maman Conserve to use as topping
Method:
Combine the flour, sugar, salt and baking powder in a bowl. Cut butter into the flour until the mixture resembles crumbs.
In a separate bowl, beat two eggs until they're light and airy. Add ¾ cup heavy cream or milk.
Add the wet ingredients to the dry ingredients. Stir in the blueberries or chopped strawberries, and Bonne Maman Blueberry and Strawberry Conserve. Mix the dough until it all comes together, being careful not to over mix.
Roll dough out to a thickness of 1 inch. Cut into rounds with fluted pastry cutters. Bake at 200°C for 15 minutes or until golden.
Waffles
The infamous waffles desserts with its golden grid and slight crunch are delicious to savour with our Bonne Maman Conserve, spread and Marmalade.
Prepare by cooking the dough into a two 'iron plates', it has a distinguish pattern which gives your dessert character and style!
Originally from Belgium, the Dessert icon is now indulged during brunch and specials occasions.
We recommend using Bonne Maman Caramel Sauce, Fruits of the Forest or Orange marmalade as topping to bring intense flavours!